As the usage of E – commerce websites are increasing rapidly from the last few years. People are doing more virtual shopping through various online sites, as it is more time and resource saving method for shopping. Now a day most of the people are doing online shopping and with increasing e- commerce fraudulent websites are also growing. So we are here to guide you about the negative and positive elements of online websites. Here you can check the genuineness of the Ordolava.com and safe yourself from the any online scam.
What is Ordolava.com? Is it legit or fake?
Ordolava.com is online website selling Skincare product for women called Green Tea Deep Cleanse Mask. They mention that the product is made from natural ingredients. They are also ensuring that their product is high quality product at lowest price.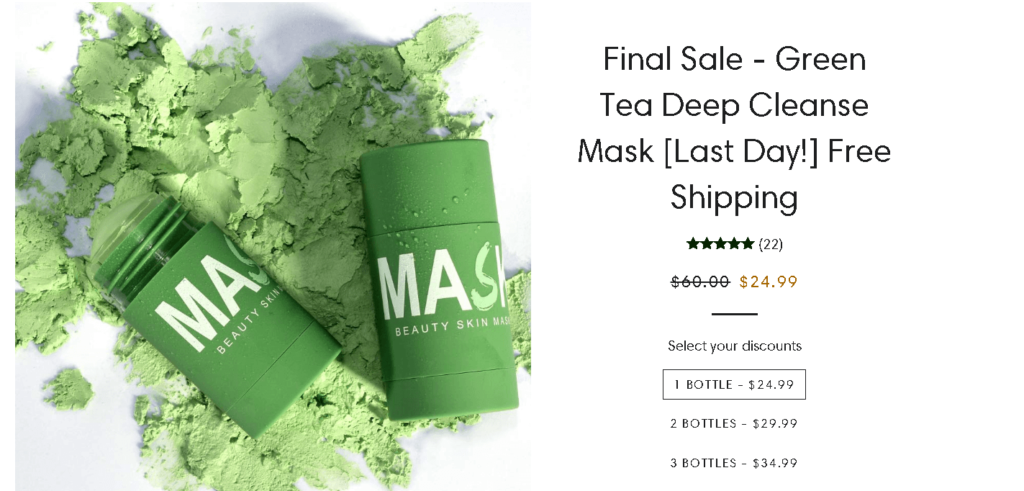 Positive and Negative elements of is Ordolava.com:
The connection of Website is safe as https.
Trust score given by the other websites are:
Scamadvisor.com – Trust level of Ordolava.com is 1, given by Scam advisor.
Scamdoc.com – Trust level of Ordolava.com  is 1 which is very low.
Domain
The domain of Ordolava.com registered on 2022-11-26 and expiring on 2023-11-26 Which shows it is only 3 weeks old.
Product
Ordolava.com has given the product description as The Green Tea Solid cleansing face contains green tea extract. They also mention that their product is natural. You can buy unlimited quantity of product which is a kind of strange thing.
Payment Options
They accept all major credit cards like VISA, Mastercard ,  Discover, AMEX and PayPal payments. SSL connection is valid.
Shipping and Delivery
The shipping is free Worldwide and the duration of Shipping and delivery of Product is 2-4 weeks almost for every country. Cash on delivery is also unavailable .
Return and Refund Policy
Company Return and refund policy lasts for only thirty days and if Product doesn't returned within a month then, company will not accept return or refund.  There are also specific items that are non returnable . If shipping of an item is over $75, you have to purchase shipping insurance. The Return policy is also quite unclear.
Reviews
The Review by customer on the product is positive with five star rating But, The reviews given by other websites are negative.
Contact information
Ordolava.com provided their email as support@stephanie-gottlieb.com. But contact number is not given.
Social Media handles
Website is present on social media platforms like facebook, twitter, Pinterest. You have to login your account first to check their posts or content.
Conclusion
Ordolava.com is providing product called Green Tea Deep Cleanse Mask which is made from natural ingredients as they have mentioned. If you are also thinking to buy this product we advise you to consider all the positive and negative point of the website before ordering the product. For better understanding of the website you can do your own research.