Uboftia.com is a global online store that delivers the latest fashion collection, in the new year sale products are also offered at 90% off. Are you are interested in buying from Uboftia? Before any purchases check out whether Uboftia is a scam or a legit site.
About Uboftia.com:
Uboftia.com is a new e-commerce website selling a variety of clothes, Silver Fur Knee Length Jacket, Brown Pure Vigilance Platform Boot, Full-Length Fur Coat, and many other items. All the products are offered at a heavy discount.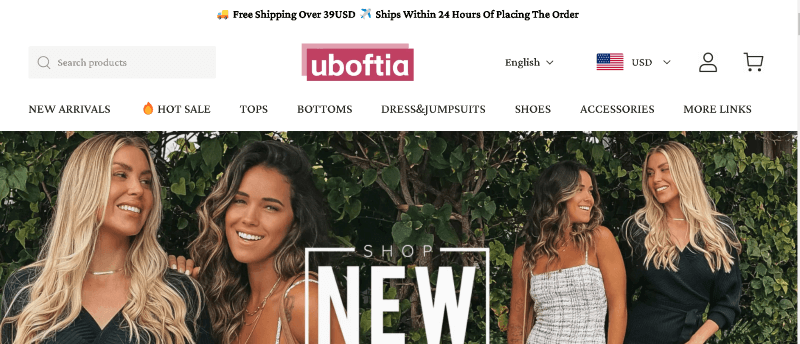 Significant elements of Uboftia.com are:
The domain age of Uboftia.com is 4 months and 8 days old usually people used to avoid purchases from a new website.
The website has given social media icons but is not openable without the login info of the user.
The company name is given as Kentesh Ltd, this name has also been used by other scam sites.
The email provided by the site is service@ubotia.com, But there is no contact number provided on the site.
All the products are available at extremely low prices if you search for the same item on any popular site the price difference is huge which is quite suspicious.
The website connection is secure with https.
Free shipping is available for over $39 shopping.
For payment, Uboftia.com has given credit/debit card, PayPal options.
Each product quantity is unlimited, as it is difficult to store much stock.
Uboftia.com trust score given by the scam advisor is 1.
Who is the owner of Uboftia? is not known on whois.
The SSL certificate of Uboftia.com is valid.
Conclusion:
After a deep analysis of Uboftia.com we get to know various positive as well as negative elements in the site, like Uboftia.com having a valid SSL but, the products price offered by the site looks like a sale tactic that most of the scam websites use to lure the customer, also the domain of the website is new most of the customers like to shop from already established websites. If you are considering Uboftia.com for shopping we advise you to checkout all the given elements before shopping.
Thank you