Swimshy.com is an online shopping site selling beachwear for women, varied product variety is available at a good price. But is Swimshy.com a trustworthy website? Check out the fair review to avoid unnecessary scams.
What is Swimshy.com?
Swimshy.com is an online store selling varied items like SWIMSUIT SET, SWIMSUIT SET AND COVERUP, ONE PIECE SWIMSUIT, DEEP V-NECK ONE-PIECE SWIMSUIT, and many other items.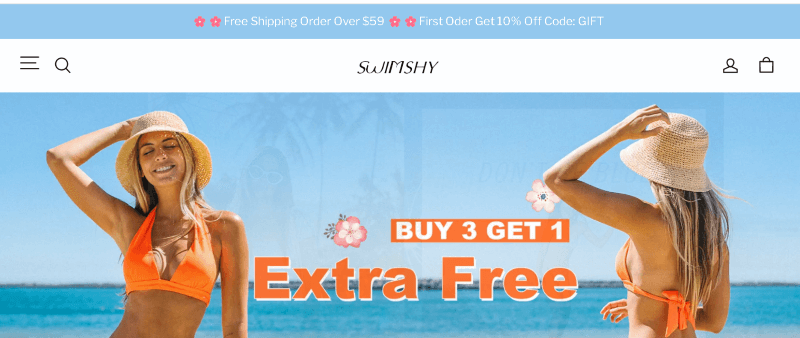 Important elements of Swimshy.com:
The domain of Swimshy.com is 10 months old, registered on 2022-02-11, and expires on 2024-02-11.
Customer reviews and Ratings are absent.
The Swimshy.com connection is secure.
The product variety is vast in women's beachwear outfits.
The email provided by Swimshy.com is Service@swimshy.com and the contact number is given as 125855648 (Service in English Only).
The company is jointly operated by HONGKONG BONWAY SHINING INTERNATIONAL TRADE LIMITED and SHARISHA LIMITED.
The given company address looks fake.
Swimshy is providing unlimited product quantity of most products,  as it is difficult for a new online store to reserve much stock.
For payment Cash on delivery is not available, Credit/Debit card, or PayPal is available.
According to Tranco Swimshy.com has a low Alexa rank.
The SSL certificate of Swimshy.com is valid.
Owner's details are hidden on whois.
Free Shipping is available on orders over $69, Shipping duration is between 13-23 days.
The discount offered by Swimshy is good.
The trust score given by other websites is also low.
Conclusion:
Swimshy.com is a new e-commerce website selling each product at a good discount, through a deep analysis of the website there are many concerning elements, like the domain of the site is new generally, people prefer an established website for shopping also the company address looks fake, But the SSL certificate of the Swimshy is safe. From our viewpoint, Swimshy.com looks like a suspicious website. If you are considering Swimshy.com, Please consider all the above points before shopping.
Thank You